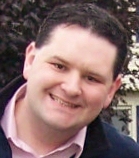 Matthew Sharpe is a psychiatric nurse practitioner experienced in managing psychiatric medications for a wide array of conditions, concerns, and symptoms.  Mr. Sharpe's primary focus is initiating, monitoring, and adjusting medications for mental health concerns in the context of a supportive, safe, non-judgmental and unrushed environment.  Matthew understands the need for a comprehensive approach to patient care accounting for the complexity inherent in each individual's circumstances and concerns.
Mr. Sharpe is board certified as a Psychiatric Mental Health Nurse Practitioner. He earned his Master's and Bachelor's degrees in Nursing at the University of Rochester. Mr. Sharpe also completed a Bachelor's degree in psychology at Geneseo State University. Matthew has worked in a variety of settings including the psychiatric emergency department, inpatient psychiatric units, a chemical dependency outpatient program, and in outpatient mental health clinics.
Matthew is now accepting adult and older adolescent patients with evening and Saturday appointments available by appointment.